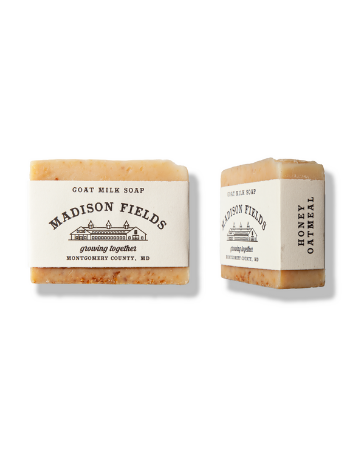 Madison Fields Goat Milk Soap - Honey Oatmeal
Madison Fields Goat Milk Soap
These soaps are made with love and care at the Madison Fields Goat Milk Soapery in the beautiful hill country of Montgomery County, MD. Madison Fields' program is designed to improve lives through job preparedness training and meaningful employment for adults with autism or other differences in ability.
Rocklands Farm Winery is participating in Madison Fields' Healthy Hands Program, an incredible initiative to get soap into the hands of people in need within our community. With each 4oz bar purchase, two 1.3oz bars will be donated to local and national organizations such as homeless shelters.
Honey Oatmeal Goat Milk Soap 4oz
Handcrafted with traditional methods using milk from Madison Field's pampered herd of goats, this goat milk soap contains rich natural emollients that help keep your skin's natural defenses in top shape! Each soap comes individually packaged and sealed in a glassine bag.