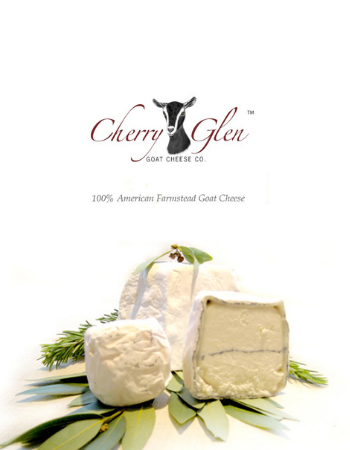 Cherry Glen Goat Cheese - Ash
Cherry Glen Goat Cheese Company is based on a 58 acre farm in Boyds, MD, within the Montgomery County Agricultural Reserve. A true farmstead operation, this soft-ripened cheese is made from Cherry Glen's own herd of Alpine, La Mancha, Saanen, and Toggenburg dairy goats, and is made from 100% American ingredients and all-vegetable rennet and enzymes.
MONOCACY ASH (appx. 7oz)
Farmstead Soft Ripened Goat Cheese
This soft-ripened two-layer cheese is very similar to the previous cheese, but has an edible ash coating and ash line through the center. Using the same culture as in the Silver, this more complex cheese tastes slightly different due to the alkalinity of the vegetable ash. Although we would not pair this with Champagne or dark chocolate - it ranks right up there. Decadent!