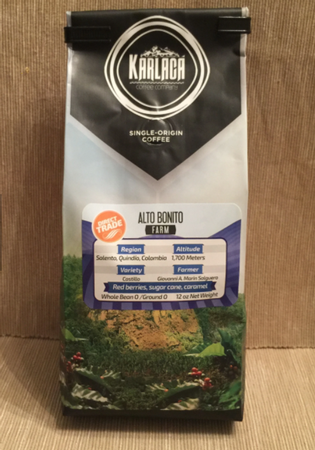 Karlacá Alto Bonito Single-Origin Whole Bean Coffee 12oz
This sweet coffee offers aromas of maple, sugarcane molasses, and chocolate leading into light notes of red berries and brown sugar. Silky, caramelized body, bright acidity, and lingering chocolate notes make for a satisfying, balanced cup.
Alto Bonito Farm is in Salento, located in the northeastern corner of the Quindio department. Nestled near the Central Cordillera- (Central Andes) where average temperatures hover around 59 degrees F, coffee flourishes.

Alto Bonito Farm is an estate and direct trade coffee owned by Giovanni A. Marin Salguero. An incredibly hard worker, Giovanni follows a very traditional approach with his coffees. Using the wet process method, he ferments his coffee for about 16 hours, and sun dries it. Due to Giovanni's dedication to sustainability, his coffees hold UTZ and Rainforest Alliance certifications. Karlacá traded directly with Giovanni for this particular lot.
Producer: Giovanni A. Marin Salguero
Altitud: 1,700 m.a.s.l.
Region: Salento, Quindio
Country: Colombia
Varietal: Castillo