TOP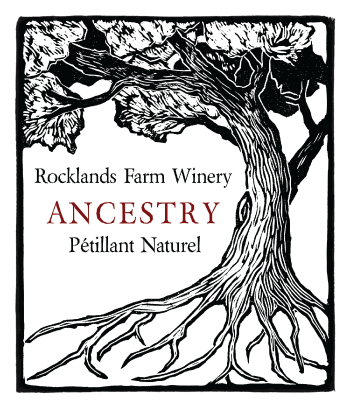 2019 Ancestry Pet Nat
Appellation
Montgomery County
100% Estate-Grown Chardonnay
10.7% ABV | Barrel Fermented, Finished in Bottle | Ancestral Method Sparkling Wine | Montgomery Co, Maryland Appellation
Petillant Natural (Pet-Nat) or Ancestral Method is the original way in which sparkling wine was produced. Of all the sparkling wine methods of production, it is most closely related to the traditional method (Champagne method). However these methods differ in a few important ways. The biggest difference is when the wine is bottled. Pet-nats are bottled during the initial fermentation of the wine, whereas traditional method sparkling wines are fermented dry, aged, and then a second fermentation is started and the wine is bottled. This difference means that Pet-Nats are a much more difficult to control as the initial fermentation is harder to predict. The key to a good pet-nat is bottling the wine at the correct time so that there is enough carbonation in bottle, but not so much that bottles explode or foam over when opened. Pet-nats are also not traditionally inoculated, filtered, fined or disgorged. This means that the end product is usually a bit hazy with sediment apparent in each bottle.
Visually the Ancestry will appear cloudy due to its production methods. The wine was neither filtered nor fined with any fining agents so the natural haziness from fermentation will still be apparent. As well, the fact that the wine finished fermenting in bottle will mean that there is some natural sediment at the bottom of each bottle. None of this will affect any of the sensory attributes of the wine (besides visual).
On the nose the Ancestry leads with citrus fruits, primarily lemon and lime. As well, there is a component of green apple to round out the fruit flavors. In addition to the fruit, the wine exhibits some slight yeast qualities (think biscuit). This makes sense as the yeast that finished the fermentation (and made all the bubbles) is still in the bottle. Due to its early release however, the yeast qualities play a secondary role to the fruit. As the wine ages, one could expect that the fruitiness will diminish as the yeast flavors become more apparent.
On the palate the Ancestry is very bright and zesty. This is due to the high acidity of the wine as well as its natural carbonation from fermentation. The bubbles themselves add a layer of complexity, both in taste and texture. These fine bubbles elevate the aromatics naturally present in the wine and in the mouth provide a creamy texture.
The Ancestry can be consumed now or aged. The wine should be served cold.
Wine Specs
Appellation
Montgomery County